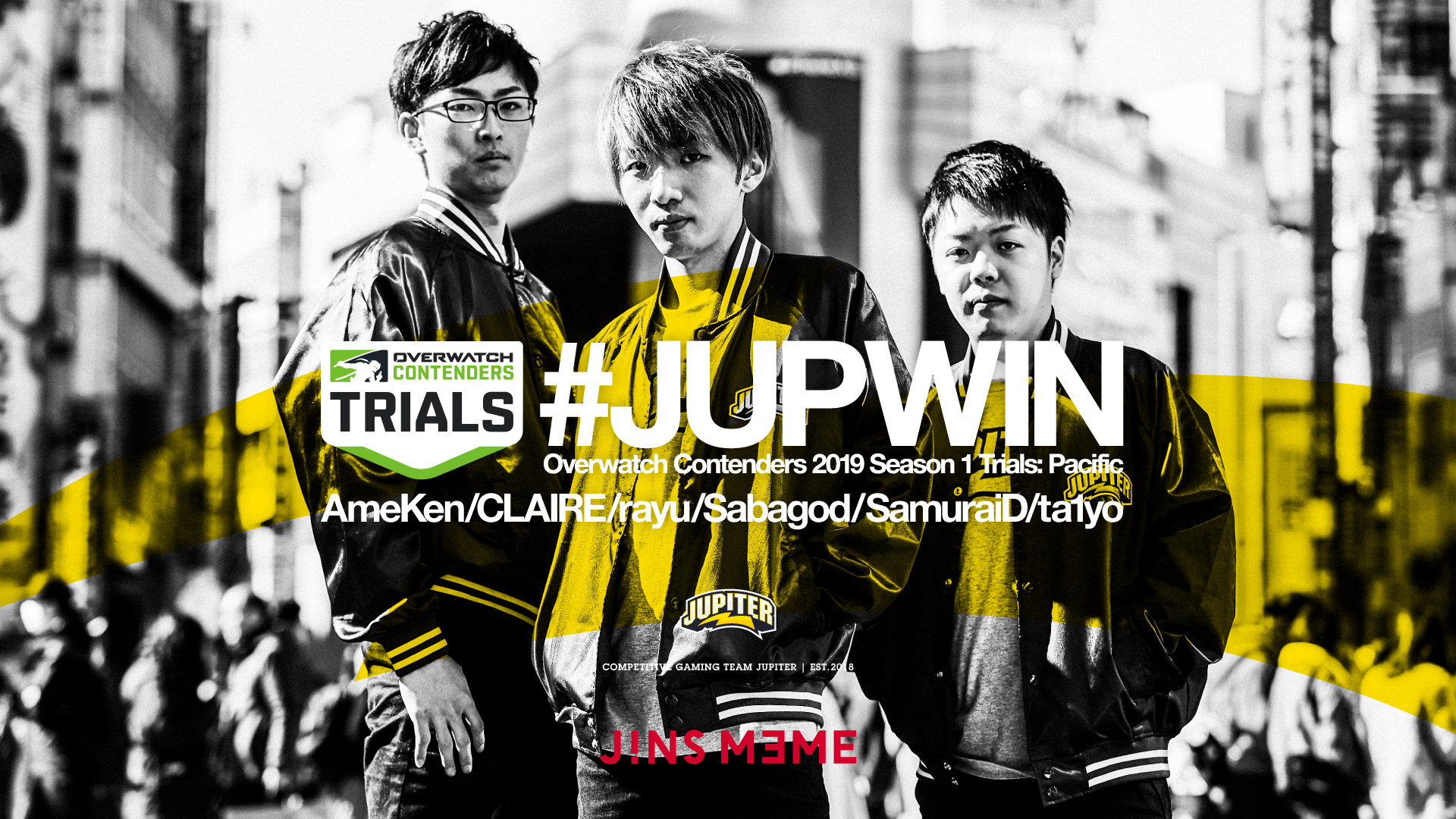 Overwatch – 『2019 Overwatch Open Division Season1 』に出場
アジア太平洋地域で行われる公式オンライン大会である『2019 Overwatch Open Division Season1 – Pacific』にオーバーウォッチ部門が出場いたします。 
『Overwatch Open Division』は『Overwatch Contenders』シリーズの出場権の獲得を目指すオープン大会です。
本大会は公式配信がない為、試合結果などの速報は『JUPITER 公式ツイッター』でお知らせします。
『JUPITER オーバーウォッチ部門』にとって、記念すべき初戦となりますので応援よろしくお願いします。
また、SNSなどで「#JUPWIN」と共に応援メッセージをいただけると幸いです。
ー
Hello, guys. We will be participating in "2019 Overwatch Open Division Season1".
We will release more information about the tournament such as results via our official Twitter. Please check it.
This is the first tournament for our overwatch team, so please cheer for us!
ー
What is "Overwatch Open Division" ?  
オーバーウォッチの公式大会フォーマットは以下のようになっており、ヨーロッパ、アメリカ、アジア太平洋、オーストラリア、韓国、中国、南米の7地域でそれぞれ開催されています。
オープン大会『Overwatch Open Division』
誰でも参加が可能なオンライン大会
入れ替え戦『Overwatch Contenders Trials』
『Overwatch Open Division』の上位チームと『Overwatch Contenders』の下位チームによるオンライン大会
上位大会『Overwatch Contenders』
『Overwatch Open Division』を勝ち抜いたチームによるオンライン大会
12のフランチャイズチームにスカウトされ契約を締結したプロ選手が出場できるオフライン大会
SCHEDULE
Default match time:21:00 (日本時間、UTF+9)
Week 1: December 8th – 9th, 2018
Week 2: December 15th – 16th, 2018
Week 3: January 5th – 6th, 2019
Week 4: January 12th – 13th, 2019
Week 5: January 19th – 20th, 2019
Playoffs:15:00 – 24:00 (日本時間、UTF+9)
Week 6: January 26th – 27th, 2019
ROSTER
LINK
Blizzard:オーバーウォッチ オープンディビジョン ページ
BATTLEFY:Overwatch Open Division – Pacific
#JUPWIN