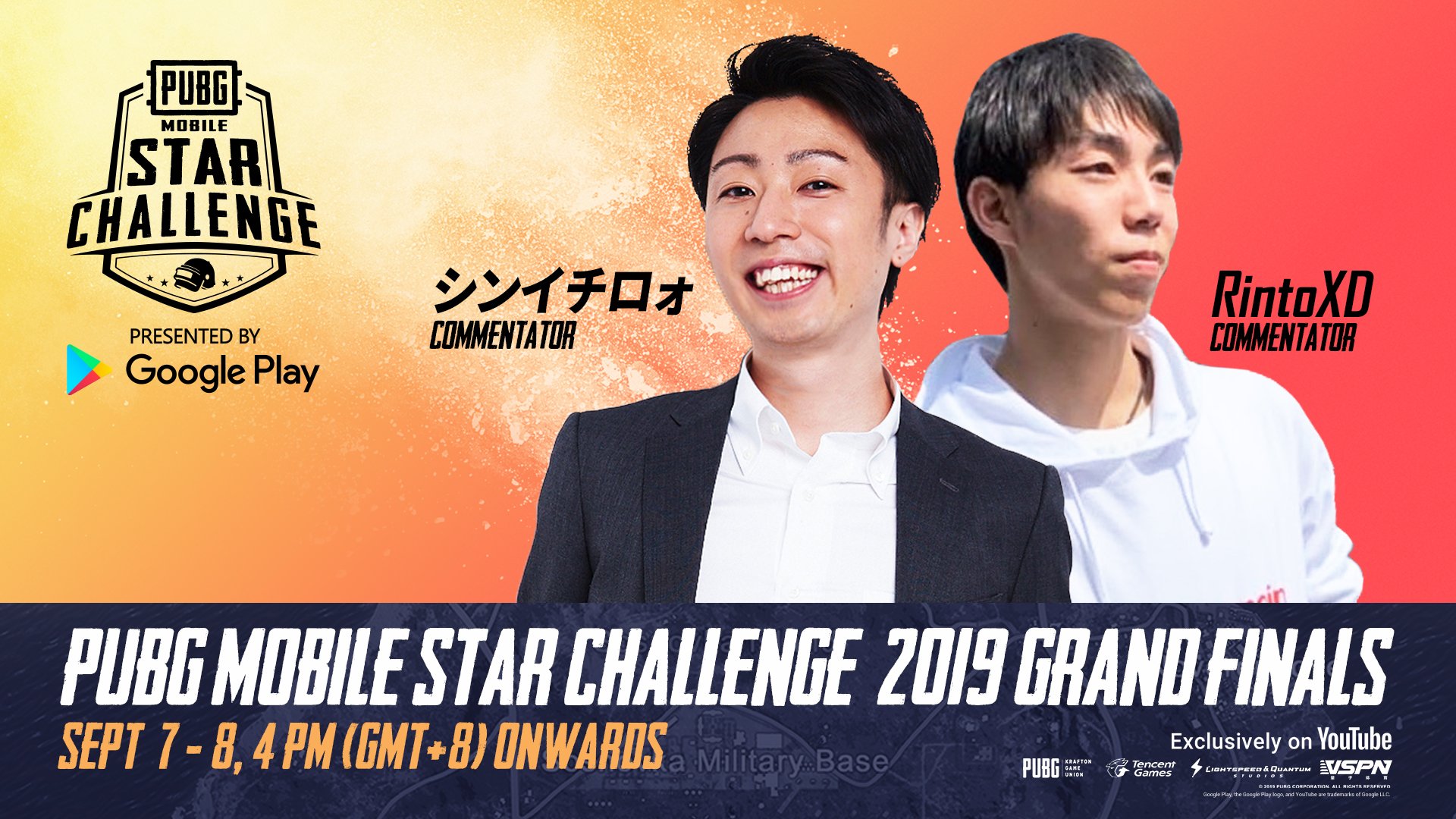 PUBG MOBILE – RintoXDが解説として9月7日、8日に開催の『PUBG MOBILE STAR CHALLENGE 2019 GRAND FINALS』に出演|See below for the English News
ストリーマー部門のRintoXDが、2019年9月7日(土)、9月8日(日)に台湾・台北で開催される「PUBG MOBILE STAR CHALLENGE 2019 GRAND FINALS」に解説として出演します!
実況者のシンイチロォさんとタッグを組んで、現地から熱狂をお伝えします!
世界中のストリーマーとチームが集う決勝戦には、日本からみしぇるさん、SCARZ Black、All Rejection Gamingが出場します。
配信は17:00〜22:30に行われます。
RintoXDとともに日本チームを応援しましょう!
—
Streamer RintoXD will be appealing as a commentator at the "PUBG MOBILE STAR CHALLENGE 2019 GRAND FINALS" which will be held in Taipei, Taiwan on 7 September (Sat) and 8 September (Sun)!
He will cast together with a Japanese famous commentator "Shinichiroo" on-site.
Also, a Japanese streamer Michelle, Japanese teams SCARZ Black and All Rejection Gaming will be participating in this event and competing against popular streamers and top players from all over the world.
Stream will start from 08:00 to 13:30 UTC+0.
Please give your support to RintoXD and to the Japanese participants!
配信リンク | Stream
【PUBG MOBILE Star Challenge 2019】
『PMSC 2019』決勝戦まで、あと3日‼️
日本からはみしぇるさん、「SCARZ Black」&「All Rejection Gaming」チームが出場します✨
生配信を見ながら、日本チームを一緒に応援しよう🇯🇵

実況🎙️
シンイチロォさん
RintoXDさん

■Day1(9/7)https://t.co/2tk7HEUuG3 pic.twitter.com/yLOXWqErSE

— PUBG MOBILE 日本公式 (@PUBGMOBILE_JP) September 4, 2019